Eurorack
VEGA
4 Voices Eurorack Drum Module
Image title:
Image credits:
VEGA is the first module of the italian company Faselunare. Is a 6HP, 4 Voices drum module in Eurorack format.
When we started thinking about our first module, we thought about what we wanted to put in our rack. We wanted a rhythmic section that would allow us to have multiple sounds simultaneously.
Another thing we wanted was to save space because the number one enemy of modular systems is the space.
So we started thinking about VEGA. It had to be small and have multiple functions.
In the end, we came to have a module of only 6HP with 4 voices dedicated to percussive sounds with the possibility of having synthesis and samples as a sound source.
Each voice therefore has 4 samples (stored on SD card) and 1 synth engine dedicated to specific types of sound (Kick, Snare, Hats x 2)
The interface is very simple, 4 voice buttons (amber), 1 function button (amber), 2 RGB encoders and a series of colored LEDs for the pages.
Why VEGA?
Here at FASELUNARE (Moon-phase in English), we have a passion for space and sci-fi, Francesco's Stage name has always been Urbanspaceman and together with Daniele he played and released some records as the "Space Aliens From Outer Space", that's why our projects have names inspired by space and science fiction!
The Lyra Constellation
Lyra belongs to the Hercules family of constellations.
The brightest star in the constellation is Vega, α Lyrae, which is also the fifth brightest star in the sky.
The constellation contains six formally named stars: Aladfar, Sheliak, Sulafat, Vega, Xihe, and Chasoň.
If you look at an image of the Lyra constellation, you will notice that the module's page button represent Vega (α Lyrae) the brightest star while the 4 voices buttons are positioned exactly like the 4 stars: Sulafat (γ Lyrae), Sheliak (β Lyrae) Zeta Lyrae (ζ Lyrae) and Delta Lyrae (δ Lyrae).
GALLERY
VIDEO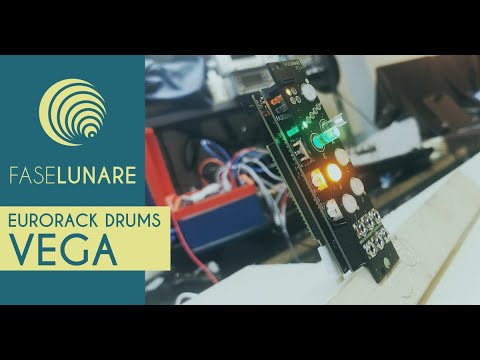 SPECS
| | | |
| --- | --- | --- |
| | Width | 6 HP |
| | Depth | 36mm |
| | Power | +12V: 10mA -12V: 10mA +5V: 280mA |
FEATURES
4 Independent digital voices


Each of the VEGA voices has 2 AUDIO ENGINES, one that works with SAMPLES and one totally SYHNTHESIZED.

2 RGB Encoders


Thanks to the use of 2 RGB encoders, we have reduced the size of the module to only 6HP.

Color coded User Interface


Using 4 coloured LEDs, we have access to 6 pages of parameters, 2 for each page. Based on the color of the encoders, we will always know which parameters we are acting on.

5 Level Leds


5 LEDs placed diagonally that indicate the value of the selected parameter.

Performance muting


With a simple key combination you can mute the 4 voices individually to create build-ups and breaks without taking your hands off the rack.

Random Trigger


An additional trigger input allows the creation of random sequences.

Presets


Vega has 5 memory slots that can be used to store the settings of the 4 voices. User can create and store them on the SD card and recall on the fly.
LINKS
Newsletter


Subscribe to our newsletter to receive VEGA news (Availability, firmware update, promo)
DOWNLOADS